Skip to page content
Skip to page level navigation
Wednesday, May 29
Wednesday, May 29
Evolving Roles for the Clinician-Teacher in the Clinical Learning Environment Featuring Guest Speaker: Denham S. Ward, M.D., Ph.D. Professor of...
Wednesday, June 5
Wednesday, June 5
The University of Rochester Farmers Market connects the University community to sustainable foods from local farmers. Each week, more than 20 vendors offer...
Friday, June 14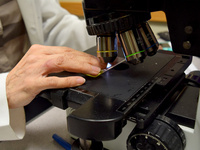 Friday, June 14
"The Role of Stains in the Era of 'Precision Medicine'" will feature URMC faculty Ed Brown, Ph.D. (Biomedical Engineering), Michael Giacomelli, Ph.D....
Tuesday, June 18
Tuesday, June 18
Attend the annual 2019 Graduate Student Society (GSS) poster session at the Sarah Flaum Atrium. The deadline for submission is Monday, June 10 and must be...