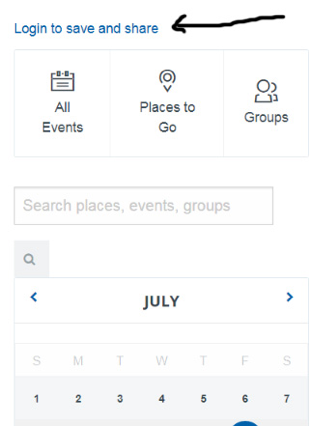 Powered by Localist—an event marketing platform—the University Events Calendar, the URMC Event Calendar, and all affiliate widgets, are public-facing.
Sign in and create an account with your University NetID.
http://events.rochester.edu
.
Before creating an event, check you're not adding a duplicate.
Write for a public audience
Think about what someone outside of your department would need to know about your event. Include as much information as possible and try not to use jargon.
Write effective event titles
Make the event title short and catchy! Event titles are brief headlines to capture your audience, so they will click on the post to read more. Add details to the description field or the appropriate information fields. Long titles will be truncated. Use title case and not all caps. Avoid adding credentials or special characters.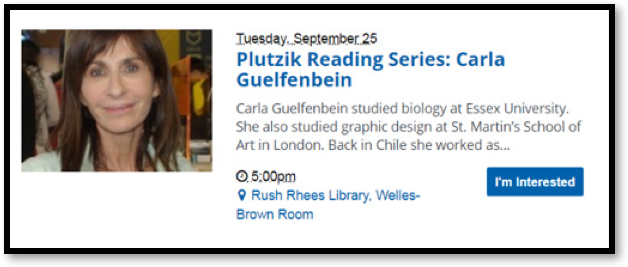 Examples:
Study Abroad Fair
Lecture: Biochemistry and Biophysics
Palliative Care Collaborative Conference
Workshop: Leadership and Diversity
Avoid acronyms or abbreviations
If it's absolutely necessary to use them, then make sure you spell them out at least once in the description, so that others know what you're referring to.
Description
What's compelling about your event? Write in sentences and paragraph form. The first sentence should engage people quickly. Writing only a few paragraphs is highly recommended. Aim for no more than 160 to 250 words. Long descriptions are lost on calendar users looking for quick event details. Use the editing tools to create hyperlinks to faculty pages, abstracts, or websites.
Schedule
Always add a date, start time, and an end time. Once you've added the date and time, then hit the "Add Above to Schedule." To add multiple dates and times, enter another start date and times in the same form, and hit the "Add Above to Schedule" again. Dates and times will be visible below and you can edit or delete each one as needed.
Experience
If you select "Virtual," don't add a place/location to the submission form. There is a field below for adding a livestream URL.
Location
There are more than 60 pre-determined locations or places in the calendar platform. Begin by typing the first two letters of the building name and a dropdown menu of options should appear. Select your building from the list and all the Google mapping information will be added automatically linked. Select "Virtual" experience for online events. If the building is not available or the University-sponsored event is off campus, you may add a place and address with a zip to connect to a map.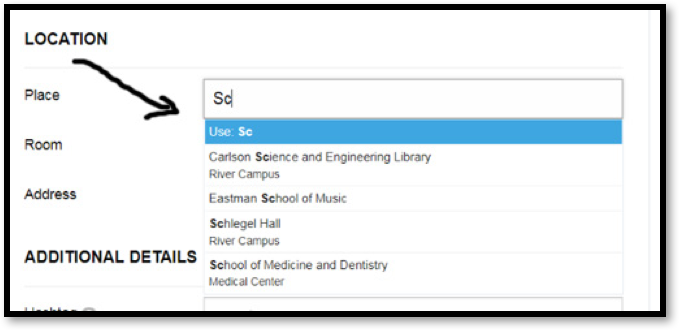 Room
Add a room number. No need to add the word "room" or repeat the building name.
Twitter Hashtag
When entered, the Localist platform will monitor mentions of the hashtag on Twitter and take mentions into consideration in the trending algorithm. Do not include the hashtag symbol, it will be automatically added. Note: only one hashtag can be used.
Event website
Any website can be entered. Only a URL, please
Photos
Use the best images possible! 500 x 500 pixels wide is preferred. Images are eye-catching and help your event stand out on the calendar. Localist can handle any image up to 5MB. Adding a large horizontal photo gives you more cropping options. Do not use a flier as your featured photo. There is a fallback photo system in place. In other words, if you do not add a photo, it will fall back to a stock group image, place image, or University logo.
Event types
The University event types on the calendar homepage are selected to appeal to a general audience at the entire University of Rochester and the community at-large. If you choose event types (this is optional), then when your event is approved by an event admin, event types may be added to your submission.
Arts & Entertainment: Includes exhibitions, concerts, performances, theater, film, and recitals.
Athletics: A game or a match featuring a varsity sports team, playoff series or tournament featuring a varsity sports team, or club sport team games.
Ceremonies and Traditions: Use for large annual or traditional University events, like Meliora Weekend, Yellowjacket Weekend, Commencement, White Coat Ceremony, pinning ceremonies or one-off celebrations (e.g., 50th anniversary of the naming of Simon); investiture of new dean, etc.)
Conferences and Symposia: A academic meeting involving one or several days of programming, multiple presentations, panel discussions, poster sessions, and speakers/or speakers.
Information sessions and fairs: Information sessions, career fairs, expos, showcases, study abroad info sessions, retirement and benefits info sessions and workshops, vendor expos, etc.
Lectures and Talks: Guest speakers, public lectures, book readings held outside normal classroom meeting times (and are generally open to the public at large- or a large population of the University community).
Medicine and Healthcare: Any event related to the Medical Center or Strong Memorial Hospital. Includes health testing and screenings, blood drives, and flu shots; Medical Center Grand Rounds and Continuing Education may also live under this event type.
Wellness and Fitness: Lifestyle, exercise, and health topics; wellness and fitness sessions sponsored by Well-U, or most wellness programs hosted by the University Health Service's Health Promotion Office.
Religious Services: Religious services and ceremonies only; usually reserved for services at the Interfaith Chapels on the River Campus or at the chapel at Strong Memorial Hospital.
Audience
Select the the audience who may attend the event: General public, students, faculty, staff, family and children, health care professionals, patients.
Groups
Select the main sponsor (s) of the event. You may select more than one, but no more than three or four, please. If your University group or department is not available, please add and hyperlink within the description of the event description.
Accommodations
Indicate information on how individuals with disabilities can request accommodations (e.g., ASL interpreter, accessible seating, etc.) You may skip this field, if the contact information in the field below is the same.
Contact phone and email
Please include a name, email, and or phone number of the main contact person for each event. The contact can be a referral person who passes inquiries/requests on to the appropriate person.
The preferred style for phone numbers is (XXX) XXX-XXXX.
Continuing education credits
If available, add the number of fulfilled education and type of credits the activity receives. Example: 1. 5 AMA PRA Category 1 Credits
Ticket cost
Enter any number with accompanying text, such as $50. If the event is free then leave this field blank or enter "Free."
Ticket URL
This can be any URL. If a price is entered for ticket cost field then the call to action button will display "Buy Tickets." However, if there is not a cost or the event reads free then this button will display "Register."
Click "Add Event" button
What happens next?

Your event is saved in a pending queue and will await the approval of an event admin.
You will receive an event confirmation email once your event has been approved. This is usually within 48 to 72 business hours of the submission.
You may make changes to an event you've submitted by logging back in at events.rochester.edu and selecting "Dashboard" under your profile picture or the Rocky icon.
However, once the event has been approved, any changes will go back to the pending queue and need to be reapproved.
Cancelling an event

Do not delete an event from the calendar. There is a status pull down menu under the description. Options include "postponed," "canceled," and "sold out."